The manufacturing industry faces numerous challenges in its day-to-day functioning, ranging from inventory tracking to data management, inconvenient accounting, and sales management. Without proper synchronisation across all operations, manufacturers cannot effectively monitor fluctuations in demand, fierce competition, and supply chain.
The COVID-19 pandemic has forced people to adopt a new way of living, thereby, companies are taking digital transformation more than a necessity to get through challenging situations with minimum damage. Industry 4.0 is referred to as a vital component in manufacturers' strategy to accept the new normal and serve the community more effectively.
Though many manufacturing companies have incorporated multiple software, counting on various vendors for different processes could be an expensive affair. Acumatica ERP software for manufacturing companies could be a great alternative that allows all business processes to operate through a single, scalable solution, ideal to meet or exceed business needs for today and in the future.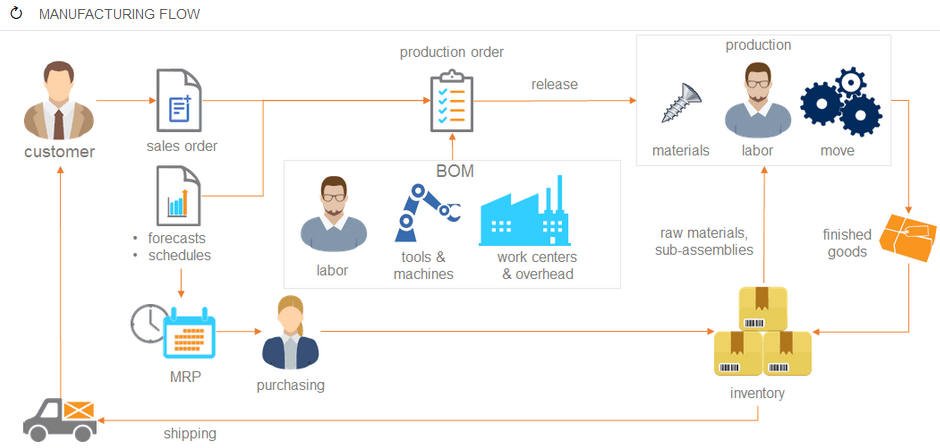 How Industry 4.0 Can Bring Modern Technology in Manufacturing Firms?
With COVID-19 continuously deteriorating economic system, the innovative tools are becoming a viable and affordable option for SMEs as they move ahead to the path of implementing cloud ERP solutions. Combined with Business Intelligence (BI), advanced analytics, Internet of Things (IoT), digital manufacturing, and advance functionalities, the manufacturing ERP system includes Industry 4.0 to anticipate and bring great opportunities for a better future.
Here's what Industry 4.0 can demonstrate:
Zero Touch Automation – It integrates voice recognition and response into a full-fledged system to streamline day-to-day operations.
Incorporating Powerful Search within Applications – This allows users to enter a general description of an item and compare them with others in inventory, history, or photo, even if it is not in your system yet. The learning element of the system can recommend item classification, estimate cost/price, assigned accounts, and more.
Intelligent Advisor – Advanced machine learning technology effectively controls operations, search, support, and details entry to make systems more active, less disturbing, and more efficient.

How Acumatica ERP System Can Revolutionise Your Manufacturing Processes?
Acumatica ERP is a full-fledged, multi-site cloud manufacturing control and planning solution with multiple methodologies, such as make-to-stock, make-to-order, project-centric, engineer-to-order, job shop, batch process, and repetitive manufacturing.
Here's how Acumatica ERP software can streamline manufacturing operations:
Optimise Inventory Management
Materials and product inventory are two core equations of inventory management. If these aren't organised, complications might arise with production levels being inaccurate or inadequate to satisfy orders. By implementing Acumatica ERP, processes like billing of materials (BOM), inventory management, and material tracking can be timely updated automatically. This can help mitigate human errors and automate inventory needs so that the necessary stock is available when needed.


Understand Customer Demand
When the information is tracked historically and manually, it is tricky to figure out what levels of inventory are necessary. An estimation guess won't really help in terms of accurate market trends and deviation in customer history. The manufacturing ERP system will notify you about the significant changes in customer demand, historically and in real-time that can make a lot simpler to comprehend future customer demands.


Refine Human Resources
Proper training, attendance tracking, and performance monitoring can have a great impact on your business processes. By implementing an ERP solution integrated with HR solutions, you can streamline and automate several paper-based admin tasks within your HR department, creating a win-win situation for both teams and organisation.


Automate Workflows
Acumatica ERP system integrates quality control and project management, wherein purchase invoices can be matched against products, profit margins can be determined, and stock control can be managed from a single interface with automation capabilities.
How Adoption of Industry 4.0 Technologies Can Increase Manufacturing SMBs Growth?
The demand for Industry 4.0 and IoT has increased a lot in the past few months and many enterprises are coming up with a need to harness its power as a stable technology. There are four core pillars of Industry 4.0, which adds more value to businesses in terms of scalable solutions, intelligent assets, productive operations, and empowered people with relevant tools and information to make quick decisions across the supply chain.
The time has arrived to realise the power of automation and human intervention, with an aim of augmenting humans alongside robotics and AI, without replacing them. Manufacturing companies can leverage information across the end-to-end supply chain to generate new business models and then transform them into predictive data for better decision-making.
Industry 4.0 is launched with a focus on 'smart factory' and since now the cost of sensor technology has declined, its adoption has increased and accelerating growth in supply chain management. Using this, manufacturers can extend their capabilities outside factories and improve the entire supply chain, including distribution and logistics management.
Why Choose Acumatica Cloud ERP Software for the Manufacturing Industry?
Acumatica Manufacturing Edition can help manufacturers with customer relationship management, sales orders, inventory management, purchasing, production, accounting, and financial reporting – everything in real-time across the entire business. They can utilise devices like phones and tablets to detect material issues, make transactions, and manage labour.
Manufacturers can make approvals and track production orders, schedules, and material requirements, from anywhere at any time. You will get a suite of products with Acumatica Manufacturing Edition, including:
Bill of Material (BOM) and Routing
Product Management
Material Requirements Planning (MRP)
Manufacturing Data Collection (MDC)
Engineering Change Control (ECC)
Advanced Planning and Scheduling
Estimation Creation
Inventory Management
Order Management
Purchase Order Management
Warehouse Management System (WMS)
Project Accounting
Service Management
Finance Reporting
Ready to Drive More Productivity and Profitability than Ever?
Every company has different project requirements so they need unique design and implementation to address business challenges and improve customer experience. At Netsense, our Acumatica ERP solution works equally for every manufacturing industry, including electrical and electronics, food and beverages, industrial machinery, automotive, high-tech companies, and much more.
It has been witnessed that those who have adopted embedded Industry 4.0 technologies into their enterprise solution and strategies were in a good position to overcome unprecedented challenges. If you want to improve profitability, agility, and performance, adopt Industry 4.0 to compete in the fast-changing marketplace.
Feel free to schedule a few minutes of demonstration with our experts to see how stock items are generated in Acumatica ERP's BOM, material requirements planning, and production modules. You will be surprised to see how personalised dashboard, screens, and real-time reporting can bring a big difference in your manufacturing processes. We'd love to help your business streamline, automate, and grow wisely. Contact us today!