Top Salesforce Partner in Malaysia
Managing 150+ Salesforce Projects
Trusted Salesforce CRM Partner for many years
Flexible Cloud Deployment across Industries
Let's take a closer look at how Salesforce CRM can help accelerate your business growth.
Request a free live demo!
Connect at Any Location, from Any Device with One Customer Relationship Management (CRM) Platform
Salesforce is an advanced and robust customer relationship management (CRM), helping your marketing, service, commerce, and IT staff to manage workflows from anywhere, at any time. Best-in-class functionality and APIs bring next-gen technology for employees, customers, and partners. Here's what the Salesforce CRM platform offers:
Back-Office Application Integration
Enhance Coding Efficiency
Quick Integration
Decrease in IT Costs
Fast System Testing
Reliable Design and Support
Easy Configuration
Fast and Secure Deployment
The Fastest Path from Ideas to Apps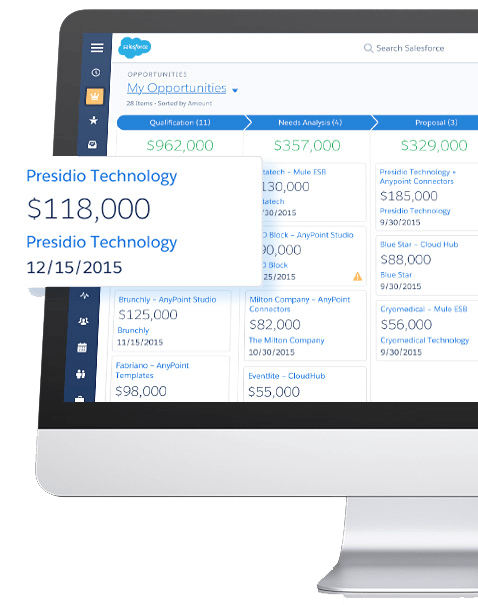 Bring Team Collaboration and Productivity with world-class CRM Solution for small businesses
Having a hard time managing sales? Missing out on quality leads in the SME market? Don't worry, Salesforce CRM can help you stand out from the crowd and focus on what's more important for your business.
Align sales team with better visibility into insights
Whenever on the move, you can handle everything from a mobile device
Improving customer experiences which means optimum satisfaction and retention
Offering best industry-specific practices and support within SMB package
Enhance forecasting with improved visibility into deals
Scope of Service
Standard Configuration on Professional Edition includes various modules:
Email marketing and campaign management
Lead and prospect management
Salesforce mobile app
Advanced reporting & dashboards
Accounts & contact management
Opportunity management
Orders & quotations
Manage sales team and processes
Enhance team collaboration
2. Proper user training for 10 users and admin training support for 2 users
3. Data management, including leads, contacts, accounts for up to 10,000 records
Terms & Conditions
The maximum number of users is 10
The scope of the project is limited to Lighting Professional standard feature
Third-party installation/purchase isn't incorporated
Can support up to 5 free cases during the contract period
Data cleansing, mining, and incorporation isn't included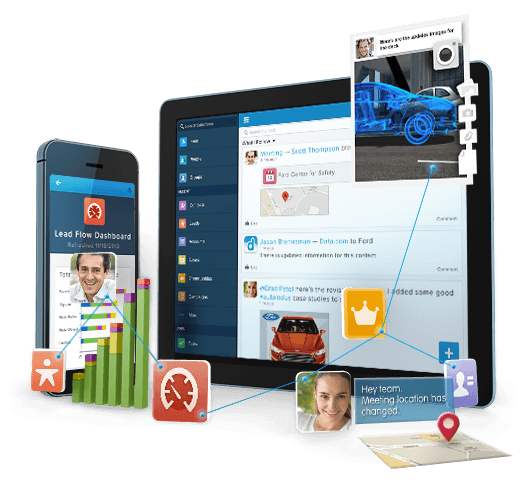 Step Ahead to the Path of Success with top-notch Sales App
The Sales Cloud CRM changes the way you operate, sell, and manage sales as you can seamlessly handle everything via mobile devices. This allows you to access accurate and up-to-date contact and lead information, keeping your sales team on the same page.
Boost sales efficiency
Expand pipeline
Enhance sales performance
Drive valuable insights
Enhance lead conversion
Ensure forecasting accuracy
Ensure Quick Services at all times with Secure Customer Service App
The Customer Service App allows you to serve exceptional customer service and support from anywhere via Service Cloud, designed with the Salesforce platform. This can help boost customer loyalty, workforce productivity, and enhance customers' experience.
Customer retention
Increase call resolution
Agent efficiency
Multi-channel service
Contract/lead management
Enhanced customer satisfaction
Track history and case management
Cases collaboration
Align cases to the right experts
Deploy powerful apps and make task management easier for everyone – Force.com
With a multitude of the suite of tools for developers, admin panel, users, developing custom apps to automate routine tasks and complex processes can be hassle-free.
Develop rich-featured apps faster – Using App Builder and Lighting components, building apps has become easier than ever.
Close collaboration with customers – It allows everyone to access Salesforce data, giving a single version of the truth for customer interactions.
Real-time collaboration – You can build and customise anything using Lighting components, which increase team collaboration and productivity.
The Solution to Your Marketing Needs
Pardot is a modern B2B marketing automation solution by Salesforce, allowing you to generate better leads and improve the bottom line. It allows the marketing and sales team to build, deploy, handle, and automate marketing campaigns.
Address and drive qualified leads
Craft custom and targeted emails
Evaluate marketing ROI
Manage reports and campaigns
Enhance market share