Document Management Solutions
Acumatica Accounts Payable Solution - Enjoy Hassle-Free Invoice Approvals and Payments
Growing businesses should manage their cash flow diligently. Even when you expand, you need to maintain financial statements and invoices to make payments in a comprehensive and effective manner. That's where the accounts payable system proves to be beneficial. With its automation capabilities, you can save money, prevent delays, and align payments with the cash flow.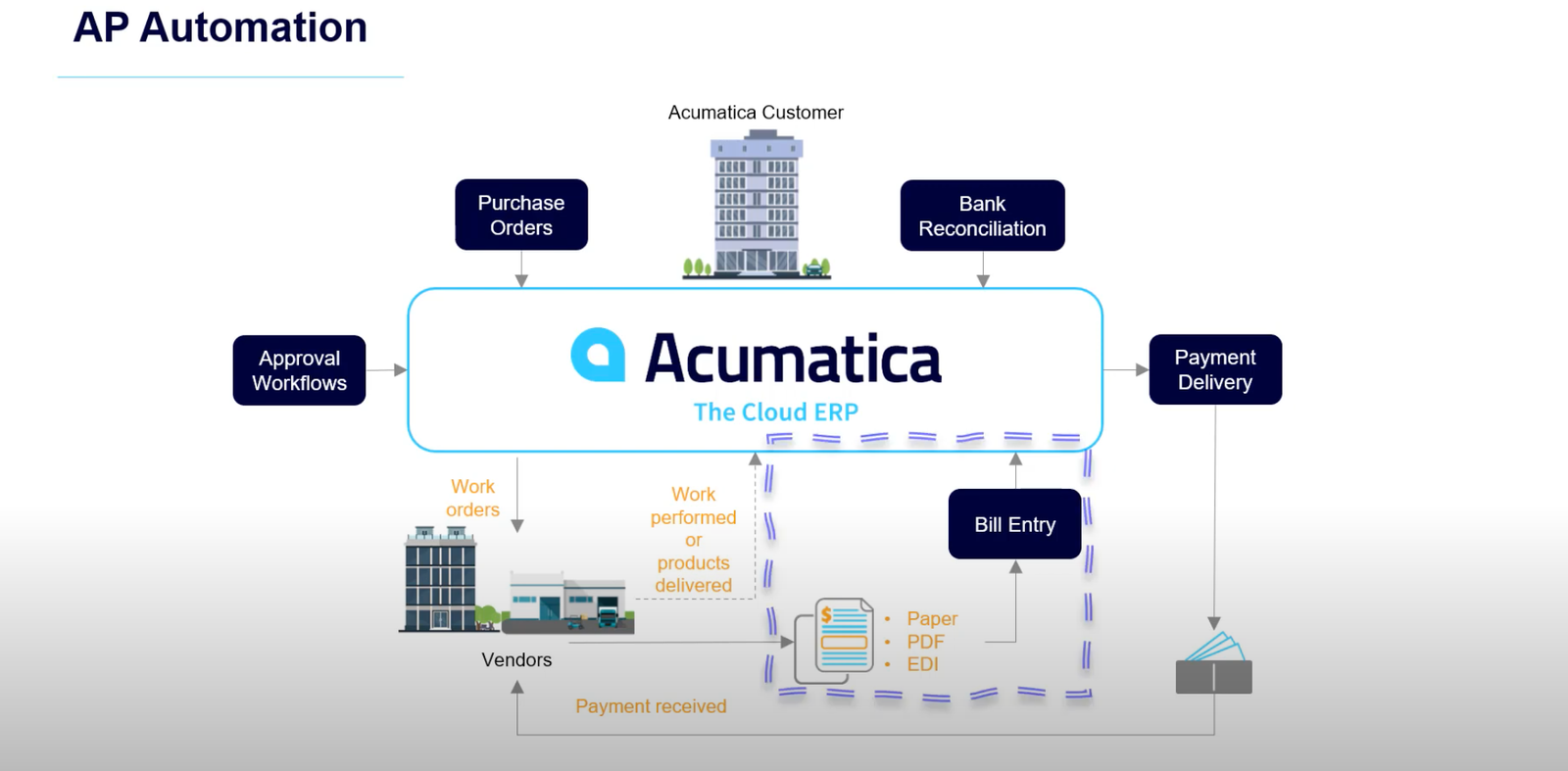 Acumatica Accounts Payable System
Acumatica accounts payable system significantly reduces your dependence on printouts, file folders, and emails. You no longer need to rely on paper invoices as you can track payments and access documents with electronic methods.
Accounts Payable System to the Rescue
Thanks to accounts payable automation capabilities that allow you to track the money you owe and approve some payment automatically while routing others through a continuous, online approval procedure.
Take the Advantage of Accounts Payable Software
Acumatica accounts payable system can help you monitor and pay the money you owe other companies. It's time to make the best use of a scalable system to get discounts by paying on time or even earlier, allowing companies to meet their obligations with fewer human errors, double data entry, and reduced paperwork.
By integrating the accounts payable system with a trusted partner of document management solutions in Malaysia, you can save time and establish efficient control over financials. If your current approval processes involve a lot of paperwork and email and you are tired of delays, it's best to switch to the Acumatica accounts payable system to prevent such situations by taking the entire process online. You can handle payment accounts and choose payment methods right in the system, ensuring business continuity and resilience.
Save Both Time and Money with Accounts Payable Automation Solution
What happens when you print an invoice, ask for approvals, and at the end leave the paper on the office desk? It results in delays. To balance your company's cash flow, you need an advanced solution to keep your money tracking and payment approvals in place and here is when Acumatica cloud ERP software comes into play.
With accounts payable automation, you can bring your company's payments and cash flow into line, reducing the chance that you will feel financially helpless after making a huge payment. By integrating accounts payable in your ERP system, you can keep a consistent track of your cash flow both in and out. This digital revolution will save you from late fees with your vendors and also increases your potential to secure better discounts.
AP Automation and Document Management Solutions
This video will take you over the new release version, Acumatica 2020 R2, and its automation and machine learning (ML) capabilities. The modern Acumatica ERP harnesses the power of Artificial Intelligence (AI) and Machine Learning (ML) to empower practical applications and leverage no-touch automation, intelligent advisor, and intellectual assistance.
It shows accounts payable and document management system revolves around expense report creation and AP automation. The Automated Expense Report Creation allows you to prepare digital receipts seamlessly by just taking a picture through a mobile device. AP automation streamlines AP document workflow by processing vendors' documents automatically. By simply logging into a financial dashboard, you can drag and pull down reports right at your fingertips.
Want to stand out in the market? Implement AP automation and document management solution today to meet your business needs.
Specifically developed for each of your services (secretarial , accounting, HR, sales, technical … ) Open Bee™ solutions make your life easier every day .
"Thanks to Open Bee™, our department now handles an ever-increasing volume of invoices much faster." explains Valérie Gabillon, Deezer's Director of Accounts.