Why do businesses want to look into adding field services to their repertoire? Acumatica's new Infographic explains.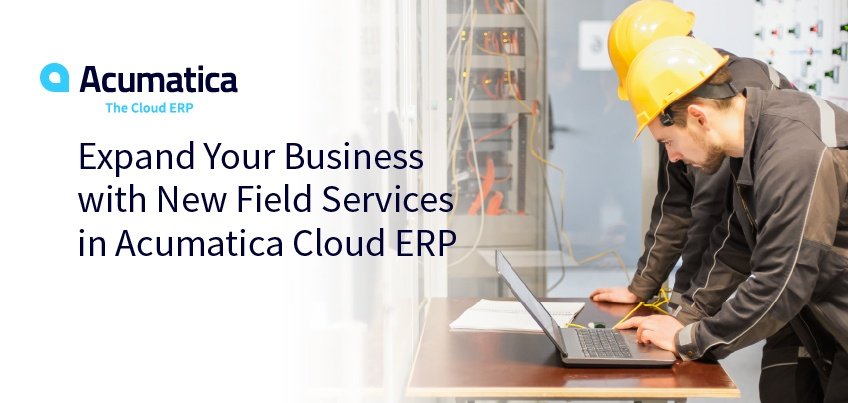 Why does your business exist? To provide a service or product that helps your customers, yes, but you're also in business to turn a profit. You're always on the lookout for ways to grow the bottom line, and there's one thing you may want to consider adding to your offerings: field services.
Field services, such as preventative maintenance, cross selling, and more, provide you with additional profit-making opportunities. If you already provide field services, but your field technicians don't have the tools they need to do the job right (FinancesOnline notes that 45% of technicians report that the current tools they use in the field are not fast enough while 38% report they can't access all the needed information), then your customers will be unhappy, and your profit will be non-existent.
Acumatica's newest Infographic explains how a well-trained team using a true cloud ERP solution with fully integrated field service software is the winning combination for business expansion.

If you're a distribution, manufacturing, or services business, modern field service management software can help automate your customer, staff, equipment, order, and inventory processes as well as their your services. It also provides your field staff anywhere, anytime access via any device. These are just some of the benefits customer M3 Technology Group experienced when they implemented Acumatica.
The company, which designs, builds, and installs audiovisual and videoconferencing systems for many industries, is known for outstanding customer service and technical support. Unfortunately, they weren't getting the same support from their legacy ERP solution, so they turned to Acumatica and Acumatica's cloud-based ERP solution, implementing Acumatica Distribution Edition with Advanced Financial Management, Order Management & Inventory Control; Acumatica Project Accounting; and Acumatica Field Service Edition. They're adding Acumatica Customer Management this year.
As noted in the company's customer success story, about 25% of their revenue comes from field support services. Acumatica's cloud ERP software, specifically Acumatica Field Service Edition, helped their field service agents access up-to-date info, modify tickets, and update info on the go.
M3 Technology Group sees Acumatica as the foundation for their continued growth, and Phillip Cordell, VP of Technical Operations, says, "I would absolutely recommend Acumatica to businesses not just in our industry but really in any industry. It enables us to track time and materials, expenses, generate accurate costing and analysis of where our projects come out at. Really, the cloud-based functionality means our employees are able to conduct their business anytime, anywhere."
Growth, which is tied directly to customer satisfaction, can be influenced by the services you provide and the technology you use to provide those services. Make sure you choose a cloud ERP solution that can support your field service operations from top to bottom, like Acumatica. Contact our team with any questions or to schedule a demonstration.