G2, the biggest marketplace for business software and services reviews has announced that Acumatica Cloud ERP ranked the highest in the software market amongst 11 industry leaders in terms of customer satisfaction. The announcement was made in their Winter 2021 reports, alongside the Momentum Grid Report of ERP systems and claims that Acumatica is ranked No. 1 in eight Momentum, Relationship, and Usability reports within project-centric, accounting, and distribution ERP.
The main purpose behind Acumatica philosophy is to offer great flexibility and usability across all industry verticals to secure outstanding results. Since in the last couple of years ERP vendors began to bring intelligence to external and internal processes, many businesses have realized the potential of ERP systems and adapting them to manage core operations.
Read on to understand the reason why Acumatica ERP successfully outpaces others and take a lead in customer satisfaction.
Acumatica Cloud ERP- Overview Video
How G2 Grid Report Ranks Cloud ERP and Where Acumatica Stands?
Being recognized by a leading business solution review platform is no less than extraordinary. The best thing is due in the part that G2 doesn't depend on a panel of judges to give rankings. Instead, results are based on actual user reviews and it is a pleasurable opportunity for Acumatica to be appreciated as a leader in the competitive ERP marketplace.
The recent G2's Momentum Grid measures the Momentum and Satisfaction scores of ERP with a proprietary algorithm based on gathered information of employee, web, social, and review. The report and Satisfaction rating is based on the following factors:
Popularity and statistical importance was based on reviews received by G2
Quality of reviews (reviews having a clear and thorough understanding are given top priority)
Customer satisfaction and user-centric product attributes were based on user reviews
Age of reviews (the latest/recent reviews offer informed and up to date information regarding the current scenario of the product)
Customer satisfaction with administration product attributes was based on user reviews
In general, customer satisfaction and Net Promoter Score (NPS) was based on G2 users ratings
The overall Momentum rating may vary depending on social growth, review growth, employee growth, and web growth while comparing year-over-year changes.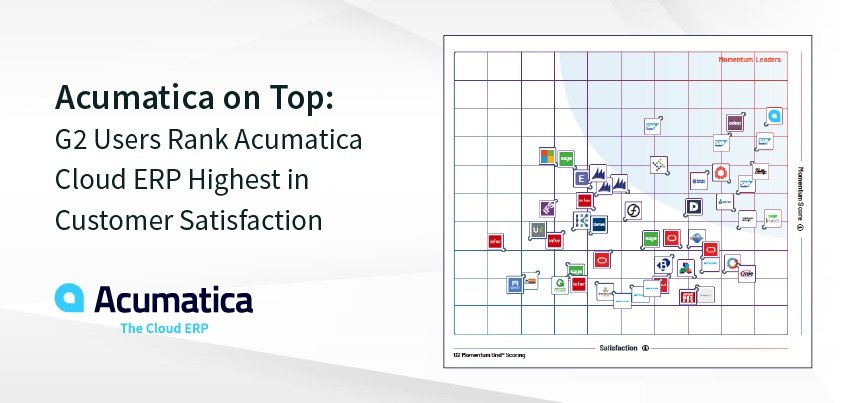 Image Source: Acumatica
Sellers, media, analysts, and investors have used both Momentum and Satisfaction scores to compare ERP products and evaluate the latest market trends. While Acumatica appears on a strong 77 in the Momentum Score, the Satisfaction score was 96 that stack up Acumatica ERP against all major rivals, including Sage Intacct, Oracle NetSuite, and SAP. The total score of Acumatica in the Momentum Grid was a notable 84.
Acumatica Cloud ERP – G2 Users Ranked it Highest in Customer Satisfaction
For anyone seeking the right ERP system for their business can find unbiased information through the Momentum Grid Report for ERP systems where leading vendors are rated on the basis of customer satisfaction. It is a great way to obtain an informative report in an intuitive and presentable format. In the report, you will come across:
How Acumatica works well in comparison to NetSuite, Sage, and others
The inside story presenting ranks from 50 ERP solution providers
How G2 receives reviews from actual users to offer genuine vendor ratings
Satisfaction ratings for prominent ERP vendors
The conclusive Momentum Score, Momentum Grid Score, and Customer Satisfaction Score for each ERP vendor
Even during times of uncertainty amid the COVID-19 pandemic, Acumatica never fails to provide impeccable functionality within the ERP system to ensure business continuity and resilience. In fact, you will find many users expressing their appreciation on Acumatica's G2 page.
Alongside gaining recognition in the Winter 2021 report, the company earned five badges in the recent reports. These cover Best Relationship for Mid-Market and Best Relationship in ERP systems, Easiest to Use, and Best Usability in Project-based ERP.
Why Choose Acumatica ERP Software?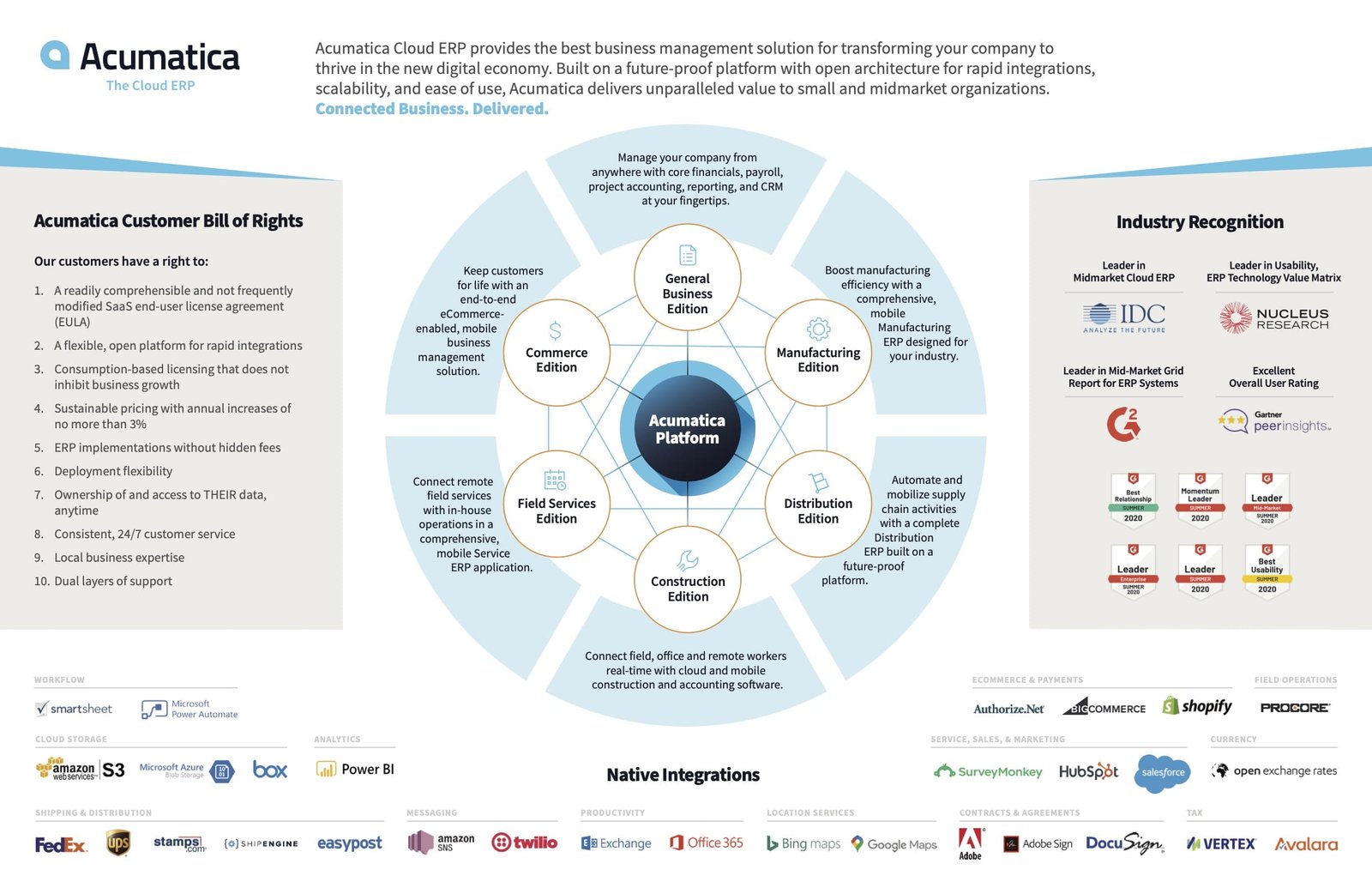 Acumatica ERP is a scalable and complete business management solution that integrates across the entire organisation, helping in tracking shipments, manufacturing, distribution, field service, and even customer service access. The system is built on the latest mobile and cloud technology which offers a consistent user interface across modules. The system is future-proof and ideas bring significant enhancements to the product over time.
Acumatica has received 4.5 out of 5 stars on G2 from real users. These impartial reviews and feedback play an important part in ERP selection and enhancements you will see in every release. After seeing the usability and functionality of Acumatica ERP honoured by G2, it shows that you will get a fully integrated, robust, and easy to use ERP system, everything you could possibly need for your business growth.
To know more about Acumatica ERP, please contact our team to schedule a demonstration and clarify any queries hassle-free. We'd be glad be assist you!