Since the e-commerce market has been flourishing significantly, more and more businesses are making a shift from brick-and-mortar stores to online stores to embrace consumers' shopping experience. Now more than ever, consumers are inclined towards convenience and purchase products online, thus, having a fully integrated solution is extremely important to manage unpredictable demands, offerings, and online presence to thrive in a bustling environment.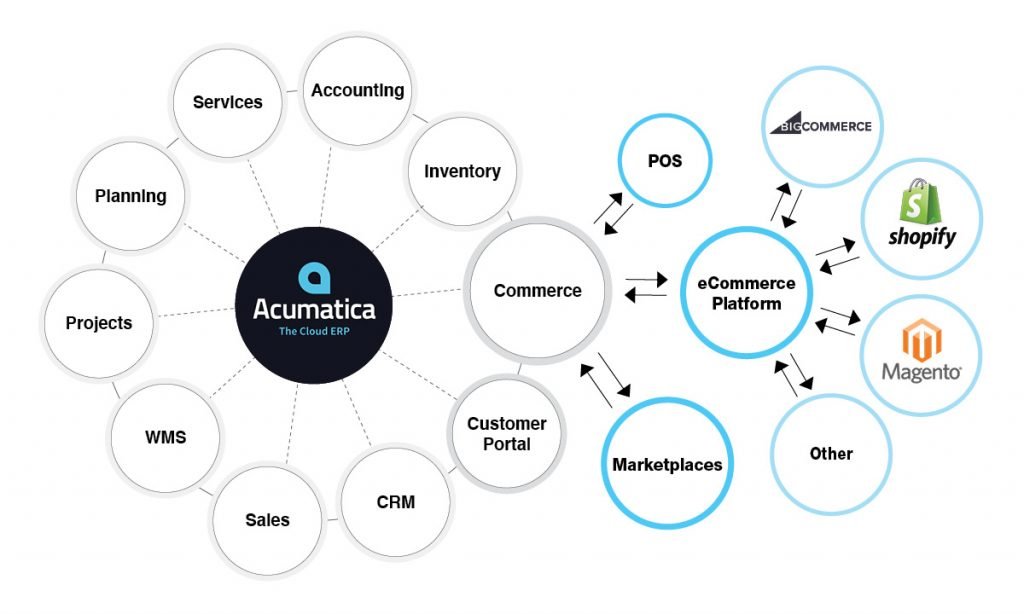 Establishing an online platform is good, but if you aren't equipped with an advanced and scalable enterprise management solution, you are likely to miss out on a number of opportunities. Take a moment to think about the last time you dealt with manual, repetitive tasks. With the universality of technology in the digital economy, it already appears that you don't need to manage tasks in the same, old manner, and implementing Acumatica ERP Commerce Edition is a way out.
Why Choose Acumatica Commerce Edition?
Acumatica Commerce Edition is a centralised, cloud-based, and result-driven ERP solution involving best-in-class features and performance capabilities, ideal for both B2B and B2C players. With tight integration to CRM, financials, warehouse, inventory, and distribution, you can enjoy real-time visibility and control over order requests and fulfilment.
Basically, you can integrate any industry-specific tools with Acumatica Cloud ERP to accelerate your business growth to its full potential. It gives the ability to handle all operations from order management to inventory, picking, packaging, shipping, returns, accounting, and customer support – everything from a single dashboard, enabling continuity and resilience for small and mid-sized enterprises.
How Acumatica ERP System is Beneficial for Your E-Commerce Business?
Provide an Omnichannel Experience
You can streamline the creation of items with various attributes, including material, size, and colour. Since Acumatica Commerce Edition can help you monitor business operations like shipping, warehousing, etc., you can overcome obstacles and continue to thrive even under challenging circumstances.


Gain a Single Version of Truth
It can centralise your processing for all sales channels via single-stream fulfilment for the counter, online, and telemarketing sales. You can easily connect your BigCommerce, Magento, or Shopify storefront with Acumatica ERP's flexible back-office system to manage all tasks from a single database, from anywhere at any time.


Streamline Order Processing and Fulfilment
With automation capabilities, you can print barcode labels and scan the goods when placed in a box and approve shipment procedures which reduces shipping and packaging errors. You can even combine it with ship stations for better efficiency.


Gain Comprehensive Business Insight
Whether your customers place orders for products over the phone, purchase in-store via POS, or place an order via the web store, all purchase activities are accumulated in a single dashboard. With a 360-degree view of customer purchases and activities, you can mitigate stock-outs and back orders.

Powerful Applications of Acumatica Commerce Edition
1. Advanced Inventory Management
It gives real-time access to inventory availability, reorder quantities and costs which efficiently handle your distribution process and improve customer satisfaction.
2. Warehouse Management System (WMS)
It streamlines the inventory receiving, management, and order fulfilment which means enhanced warehousing operations. You can use mobile phones and tablets for barcode scanning to ensure accurate part selection.
3. Advanced Financials
Acumatica cloud ERP comes with various financial capabilities that allow you to manage General Ledger (GL), sub-accounts, accounts receivable, accounts payable, payroll, consolidation, and automatic revenue recognition.
4. Order Management
It can help to handle sales activities, simplify procurement processes, and automate order fulfilment for external as well as internal customers. The regular reports and data analysis can help to stay up to date with the latest trends easily and in real-time.
How Netsense Can Help Improve Your Business Functionality?
You might have understood by now that how effective is ERP integration to streamline execution and promote business expansion. Netsense, being a Gold-Certified Acumatica Partner in Malaysia and Singapore can help you to implement the suitable Acumatica ERP system that fits your industry needs and elevate your business to a great extent.
Our advanced Acumatica ERP software gets you back in the game with optimised inventory management, data-driven customer service, centralised customer payments, and streamlined order fulfilment. This way, you can manage all your tasks and generate custom reports and invoices, whenever you need them or simply automate the process for more convenience. As everything is stored in the cloud, there is no chance for crossed wires, mix up, or data loss.
To learn more about our ERP solutions and see superior usability of Acumatica ERP into play, schedule a demonstration with us today.