The main motive of every business is to reduce upfront costs and boost efficiency, which cannot be possible through manual procedures and general-purpose ERP software. Chemical companies require advanced tools and functionality to address specific complexities and work collaboratively. That's why choosing a chemical-centric ERP system sounds like a profitable deal as it brings more competitive advantage in the industry.
An industry-specific ERP solution can be seamlessly integrated into core operations to manage tasks, processes, and systems to run a business smoothly. With the right tools, enterprises can communicate both internally and externally to discover new solutions and increase efficiency. While components may vary, ERP system usually includes finance, accounting, HR, sales, production, research and development, CRM, and procurement systems.
Why Choose Acumatica ERP Software?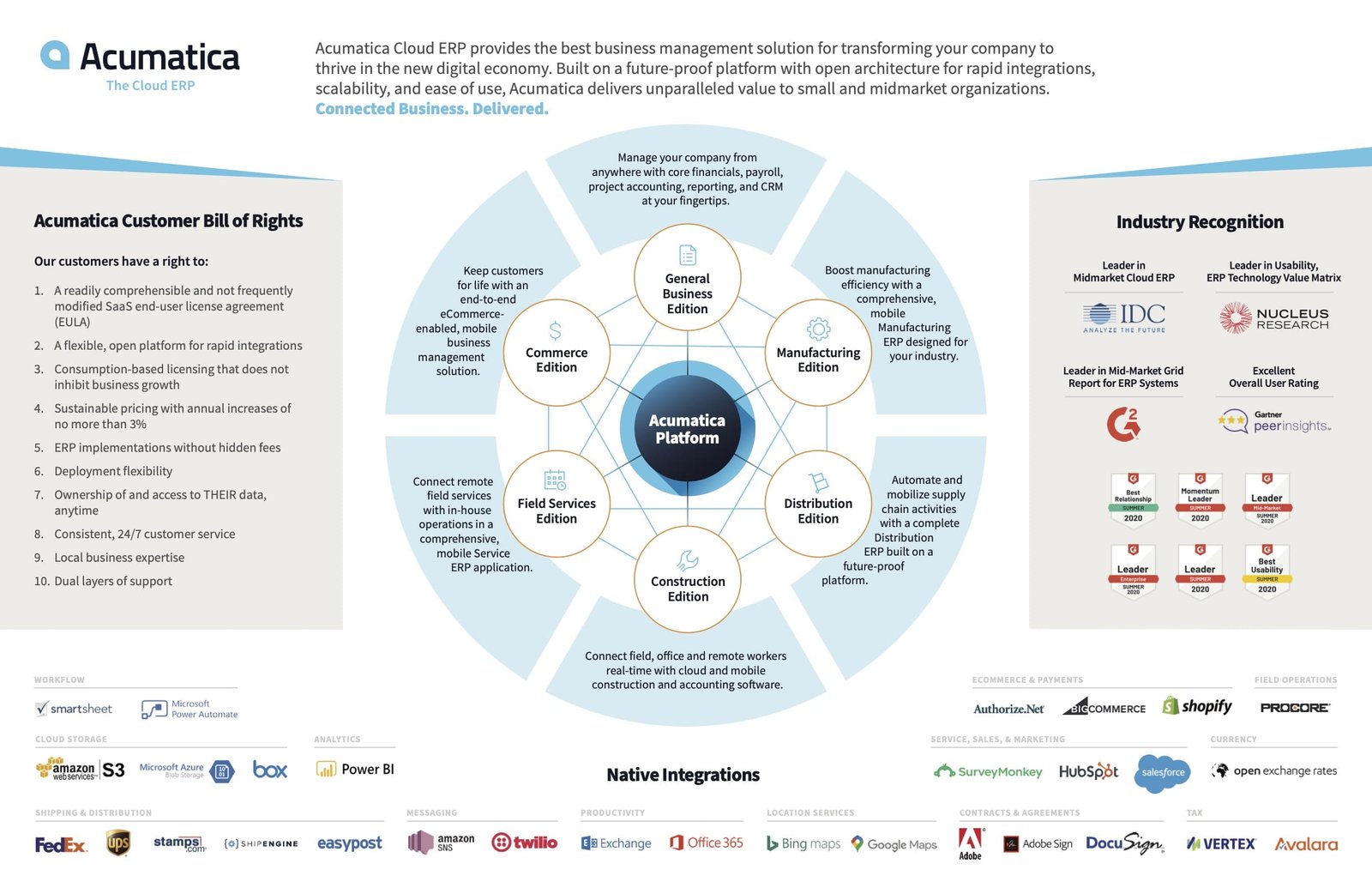 ERP Functionality Requirements for the Chemical Industry
The operations and processes managed in the chemical industry are very different than a standard manufacturing company. Therefore, they have specific functionality requirements to reduce complexities and increase productivity and ROI. The solution needs are any of the following:
1. Regulatory Compliance
Often, chemical and other process manufacturing companies are heavily regulated. Thus, they need a system with the necessary tools for better compliance throughout reporting and audit management.
For national and international regulatory requirements, you need a process manufacturing system to automate routine tasks and data accumulation to remain in compliance, be it labelling of chemicals or other company-specific needs.
2. Supply Chain Management
Accuracy and on-time availability of materials are important in the chemical industry. With a comprehensive view of the supply chain, you will be able to make better-informed decisions.
3. Consistency
Maintaining consistency in batches, formulas, and properties is imperative to deliver appropriate products. The accuracy in production with a system that efficiently automates the internal operations also results in reduced errors in processing, less wastage, and downgrading of products.
How Purpose-Built ERP can Bring Operational Efficiency in the Chemical Industry?
Back then, error-prone, scattered spreadsheets and labour-intensive manual processes consume plenty of time and effort. Manual approaches may have served the initial purpose in the past years but now in today's dynamic world, they can adversely affect productivity, operations, and growth. Whether you're involved in a chemical company, glove, or other process manufacturing, you need to keep the bottom line in place to prevent hazardous exposures and environmental dangers.
Even in many chemical and R&D labs, large resources are spending time on processes like documentation, analysis, data entry, and equipment management. But not anymore! It is advised to implement a purpose-built ERP solution to meet specific industry requirements such as formulation, labelling, handling, and shipment. This allows users to access detailed information and analysis, resulting in better decision-making.
Acumatica ERP System – An Ideal Industry-Specific Solution for Chemical Companies
Having an advanced and cohesive chemical-focused ERP system with robust tools and technology is a way to up your business game in terms of efficiency, performance, and profitability. Acumatica ERP is modern and purpose-built ERP system that has integrated business intelligence tools, offering a holistic view of insights and reports within a single database.
Whatever your chemical company size or type, the real-time collaboration and transparent operations will benefit your operations as a whole, including inventory, manufacturing, sales, financials, quality control and more. Moreover, essential information can be integrated from other systems and managed with analytical tools to gain useful insights for long-term analysis and fast decision-making.
Final Thoughts
Within a single centralised location, a chemical company can retrieve and evaluate their data in real-time, which improves decision-making and data integration. Conclusively, a chemical-centric ERP solution builds your business more efficient and profitable, making you ready for today and in the future for superior expansion.