The major question is how to maintain a proper business workflow? Well, a scalable Enterprise Resource Planning (ERP) system is the answer to all your problems. Be it a small or large business, both has to deal with various processes and projects on a consistent basis and without reliable software, the job becomes quite tiresome and perplexing. Therefore, it becomes important to implement a Construction ERP system in Malaysia or wherever your business is situated to streamline business operations across the organisation, ensuring great collaboration and improve the flow of information among several departments.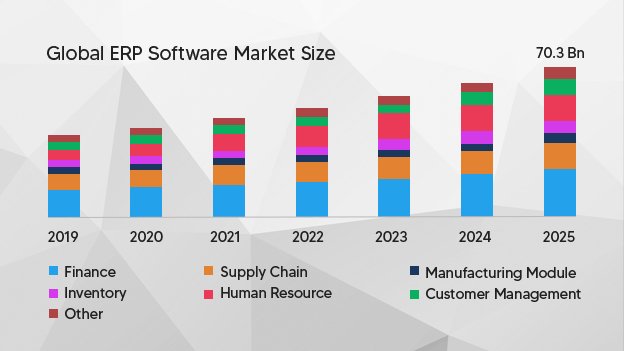 Source: KBV Research
ERP system encompasses all facets of your business, ranging from inventory to project management, accounting, sales, payroll, and more. To help you make a smart decision, this guide will walk you through all the aspects of the construction ERP system that you need to select the right software.
Let's dive in.
What is Construction ERP System?
Construction ERP software is a scalable, flexible, and modern business management solution designed to meet the unique needs of businesses at every step of the way. It can help streamline management and processes of general contractors, subcontractors, construction accounting, financial management, payroll, and service activities from one centralised location.
Why Construction Firms Need ERP Software?
If you're involved in the construction sector, you might understand that completing your project requirements efficiently, faster, and valuably requires appropriate equipment. Still, there is one element many construction firms left to utilise i.e. a full-fledged cloud-based Enterprise Resource Planning (ERP) system, which focuses on modern technology adoption and trends in the small and mid-sized market.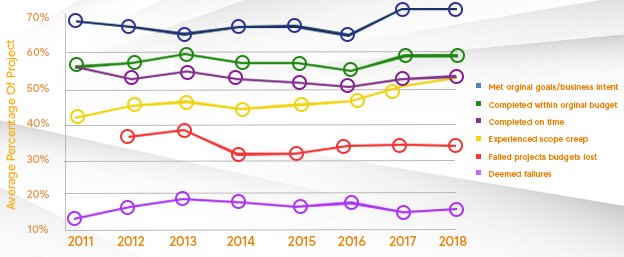 Source: PMI
There is no denying that to stay ahead of the dynamic curve; SMEs require a more flexible approach to handle core business processes to secure superior outcomes. Construction firms often face many struggles and complexities, that's why technology and product innovation are considered two essential elements to focus on. A cloud ERP system is right equipment you need to achieve project success and stand out from your competitors.
Let's take a look at some benefits of using Construction ERP solution:
Lack of planning and resource in the framework of a construction firm may lead to project delays and even breakdown in the business growth. Contractors can face huge losses in labour costs and clientele base due to untimely completion of projects. You need to plan for a raw material required, use of labour, and schedules for effective channelling of resources.
It's best to implement Construction ERP to make plans for controlling expenses and budget allocation, which results in the elimination of unnecessary downtime and contractual problems throughout the project.
Simplify Project Management
Distributing tasks and monitoring project performance across all departments within the organisation has always been difficult in the construction company. With the right ERP system, construction managers can keep a track of each project, a milestone achieved, delegate duties to the workforce, and access crucial information right at their fingertips.
Streamline the Flow of Information
Often, construction companies manage more than one client at the same time, which is why maintaining the flow of information within the entire organisation can become tedious and perplexing.
Let's face it, managing data in the form of spreadsheets or PPT isn't practical and efficient. ERP software offers real-time access to information and allows data exchange through multiple resources that ensure optimal data security and an improved decision-making process.
Every company needs to earn, save, and invest intelligently for profitable results. Irrespective of how ROI is measured, contractors possibly want to raise their ROI and this can be achieved by using the ERP system. It allows businesses to eliminate time-consuming, manual and extensive work, monitor expenditure for raw material and workforce, mitigate IT expenses, and meet project deadlines promptly.
You can adopt ERP ROI Calculator to find out the Total Cost of Ownership (TCO), licensing, deployment, and maintenance costs. Once you explore the possible ROI, you should pay attention to turning those predictions into reality.
7 Features to Look for in a Construction ERP Solution
Are you wondering which construction ERP solution is right for your construction firm? To find out, it's best to narrow down the most important features that ERP software should offer. That's why we've rounded up seven features that are helpful for every contractor looking to accelerate their business growth.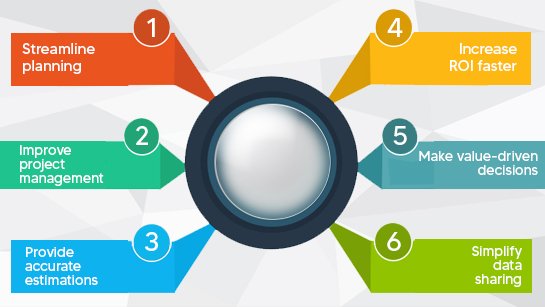 Source: Diceus
Accounting and Financials
Financial management is one of the key aspects of a construction business. ERP solutions can help manage all business functions, including accounts payable, accounts receivable, risk management, fixed asset management, payroll, invoicing, and tax management. ERP software integrated with financial and accounting functionality can help contractors make better-informed decisions, from anywhere at any time, for instance when they need to plan expenses and outline financial estimations right away.
Customer Relationship Management
Managing your data through spreadsheets seems a decent option until you caught yourself spending more time updating it than actually utilising it to seek information. Customer Relationship Management (CRM) will help you get rid of long, scattered spreadsheets and give quick access to business data in a centralised location for improved efficiency. 
With construction ERP software in Malaysia or somewhere else, you can implement full-fledged customer care solutions, build campaigns, and track customers throughout the sales cycle and enhance customer satisfaction.
Scheduling
The scheduling feature is essential for contractors when it comes to organising priorities and keeping track of the team's activities. With a scalable ERP system, you can assign tasks to the team members, track their progress, and even assign different levels to each task to prevent project delays, reduce upfront cost, and increase overall productivity.
Project and Document Management
Many construction firms need project and document management solutions to gain a comprehensive view of their projects and keep track of even minute details. It involves RFIs, purchase orders, permits, project cycle tracking, subcontractors monitoring, proposals, and management of all project-related documents. 
Automation
ERP has the ability to automate a number of tedious tasks such as payroll, invoicing, accounting, data analysis, reporting, and more. It reduces the time your staff would generally spend on these tasks, allowing them to concentrate on what's more important and reach their full potential.
It allows data to be transferred securely from one part of the system to the other, which reduces human errors and data duplication.
Data Analysis
ERP gathers and processes data from all the business functions that reflect the efficacy of certain tasks and forecast for future business decisions. It evaluates data relating to almost all business workflows, including production, sales, client, customer, budgeting, and more. Data analysis provides you with convenient access to important business data and tools you need to monitor organisational productivity and effectiveness. 
Real-Time Visibility
Since ERP applications can send and receive business information, tracking materials either raw materials or finished products becomes an easy job. The comprehensive visibility enables users to understand and anticipate problems like delays and stock outages. ERP offers a multitude of tools to obtain business information pertaining to sales, staff production, manufacturing, statistics, and more.
It also provides notifications for all certain events, keeping you updated with important activities and make a rational business decision.
How to Evaluate ERP Functionalities You Need for Your Business?
Whether you're switching from a legacy system or implementing the ERP solution for the first time, it is necessary to assess which ERP functionalities will fit best for your business. You might need to consider several factors like your business processes and operations equipped with a new system. The ERP selection can be broken down into research and requirements, information, software demonstration, and negotiation.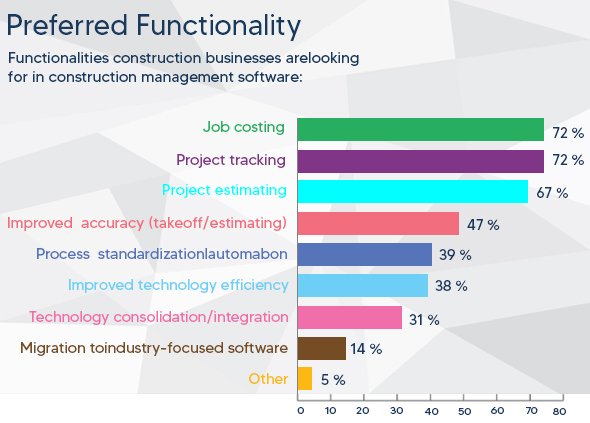 Source: Software Connect
The business management system you pick today will significantly affect the way your construction firm runs for the next 5 to 10 years. Hence, you need an integrated system that allows your workforce to be more productive and maintain exceptional customer service.
Start with your Core Business Needs
It is necessary to address two crucial aspects: where are you facing your biggest obstacles and what is slowing your business down? When you're on a hunt for the top construction management software, the primary rule to take into account is not to look for a one-size-fits-all solution, instead, take a hybrid approach to find a system that meets or exceeds your business needs to the best of your capability.
Here are some aspects to consider when optimising ERP functionality:
Project Management Requirements
Businesses deal with both simple and complex tasks, which is why meticulous attention to project management is highly imperative. The right ERP system will provide you with valuable insights you need to fulfil your administrative needs, including submittals, scheduling, RFIs, and fluctuating costs.
The main goal is to eradicate or slightly reduce the paperwork and use a holistic software approach to gain a comprehensive view of all business processes such as finances, accounting, payroll, and budgeting.
When the ERP system comes integrated with necessary modules, all the tools and practices will pay for themselveswithin a shorter period of time. That's why it's wise to switch from a standalone field service management solution to an ERP system to succeed effectively and efficiently.
Is there an ERP Solution that Contains All Vital Features?
When it comes to complete, native, and flexible solutions, we say, Acumatica Construction Edition is the most feasible option. This offers a real-time view of business activities, anytime from any web-enabled device, including financials, project management, job cost accounting, inventory, payroll, CRM, and many more.

Source: Acumatica
It is designed on mobile and cloud technology, combined with an all-inclusive user licensing model, ensuring to increase team collaboration, simplify complex processes, improves project visibility and efficiency. With best-in-class functionality and superior usability, you will have a modern Acumatica cloud ERP system to handle manufacturing, distribution, and service from a single source of the truth. 
Acumatica Construction Edition –Ensuring Business Continuity and Resilience at Every Stage
One of Acumatica's clients, Onni Group, a leading real estate developer wanted one integrated solution for all of their business needs. And that solution was Acumatica Construction Edition.With this, the client continues to offer high-tech urban communities, keep their project on schedule and within a budget, regardless of how fast is the business grows.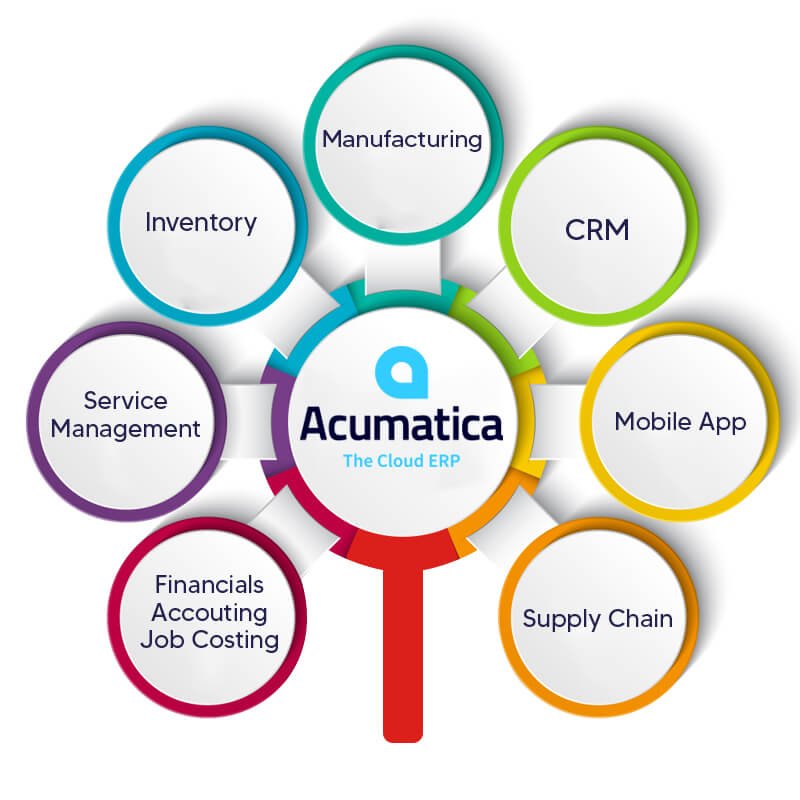 Source: Acumatica
The software allows general contractors, home builders, subcontractors, and land developers to accumulate and evaluate their project information from a single version of the truth. Whether an employee is in the office or in the field, they can access information, from any location at any time.
Key benefits of Construction Accounting Software:
Manage Your Business Processes
A fully integrated ERP solution can help manage everything from projects to expenses, and company's overall performance as it can streamline contracts, scheduling, budgets, orders, and compliance in one location. When the workforce gains a single source of the truth in one platform, decisions will be made more smartly.
Connect to Third-Party Applications
Cloud ERP can take advantage of other construction solutions like ProEst, Microsoft Office, Procore, DocuSign, and more.
Available, Anywhere at Anytime
You will have a 360-degree view of your project details, including timely field updates, back-office, project team, and management. This allows you to plan and stand ahead of your competitors to secure a brighter future.
Concentrate on Project, Not the Paperwork
You can harness the power of AP automation and artificial intelligence to manage plans, contracts, emails, change orders, spreadsheets, submittals, specifications, invoices, reports, etc, with unlimited user licensing and improved collaboration.
You can gain better insights into your job costs, such as resources to complete, costs at completion, and percentage of completion. This detailed analysis will help you make a rational decision and secure a better chance at success.
How Netsense Can Help?
You can rely on Netsense Business Solutions to ensure business continuity and success even in times of uncertainty.If you're thinking to implement the right ERP solution to manage your business activities, we would highly recommend the Acumatica Construction ERP system that has all the features, and functionality to help you gain a competitive edge. It can be useful for all users, including subcontractors, home builders, engineers, architects, and field service managers.
To Sum Up
ERP is an advanced and scalable business management solution that will automate several tasks, perform extensive data analysis, and ensure accurate flow of information in the construction firm, everything within a built-in, integrated framework.
The construction companies should consider some key factors like industry requirements, features and functionality they need, level of customisation required, cost of the project, and implementation methodology to make the best ERP selection. You can also use our ERP Comparison Checklist to analyse five crucial aspects more effectively i.e. functionality, value, productivity, technology, and security. You can use these top pointers to compare other software solutions with Acumatica ERP to find out if it is the right choice for your business.
Now that you've all the facts and information you need to make a successful ERP implementation, you shouldn't settle for anything less than extraordinary to achieve the next level of profitable growth. It's time to move to a cloud system that supports you all the way to create a well-connected business.
If you want to look deep into our ERP solutions, set up a demonstration with our expert team,and see advanced features in action. Feel free to contact us, we'd be happy to guide you.