Which ERP Solution Can Help Achieve Your Business Goals - SAP Business ByDesign or NetSuite?
Enterprise Resource Planning (ERP) system is rapidly becoming a powerful methodology to aid the flow of information and integrate all aspects of business processes in a single database. While choosing an ERP solution, you will be overwhelmed by plenty of options available in the software market.
Fortunately, there are two popular and all-inclusive ERP systems that can seamlessly manage the company's operations – SAP Business ByDesign and NetSuite. Both are top market leaders when it comes to ERP, so how do you select between them? In this comprehensive guide, we will be discussing the strengths and weaknesses of these platforms and hopefully help you find out which is the best fit for your business.
How Acumatica Compares to NetSuite and SAP Business ByDesign?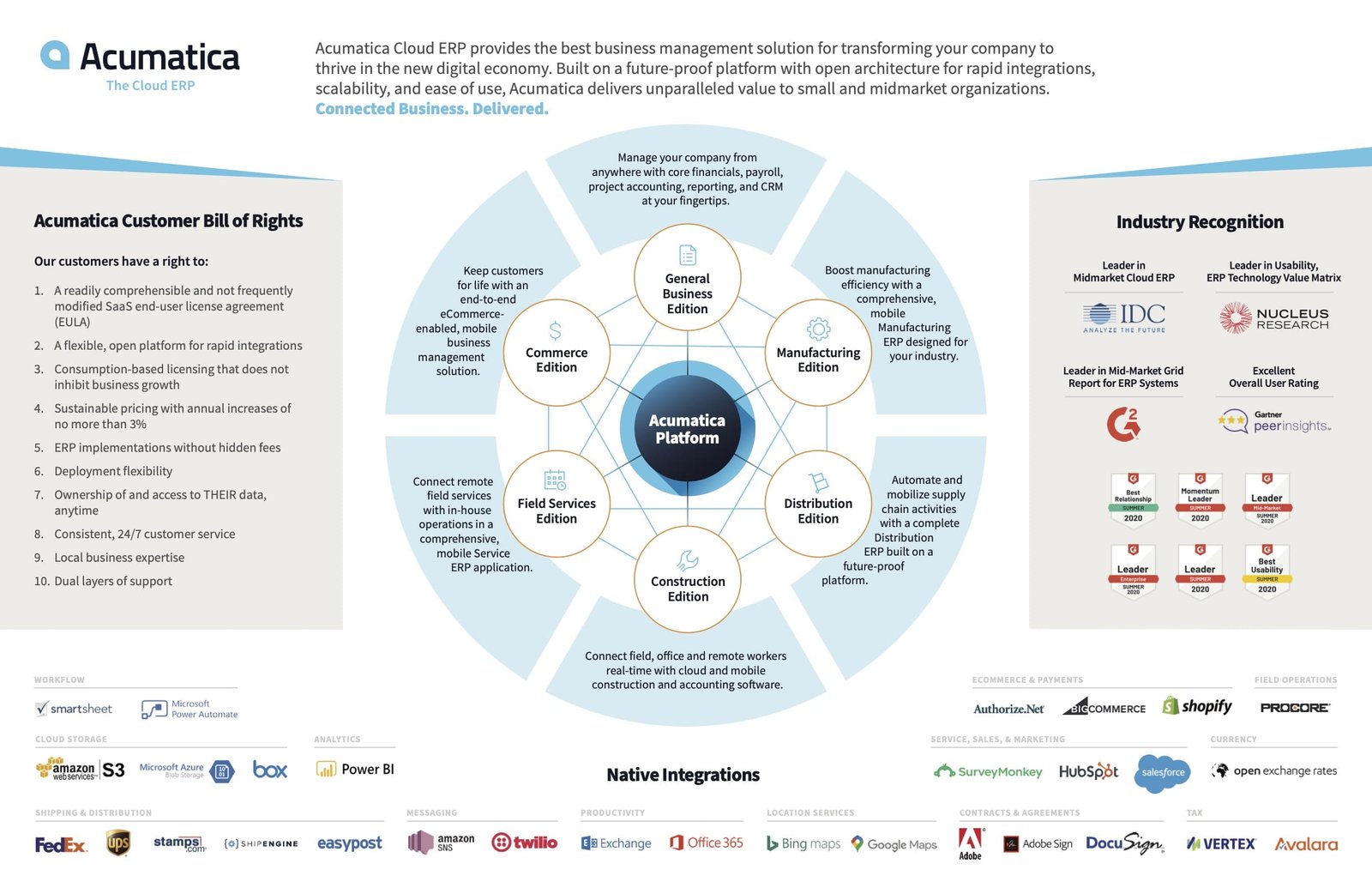 Overview of SAP ByDesign
ByDesign is SAP's first-ever attempt in the sphere of cloud ERP. It was introduced with a constant focus on manufacturing, distribution, and professional service in mid-sized enterprises. It can manage the supply chain, CRM, finance, human resource, product lifecycle, and inventory, everything from one location.
The system provides an access to business intelligence and analytical tools that will eventually help companies gain a competitive edge. It is designed for SMEs to help them take better control over their daily activities.
Overview of NetSuite
NetSuite ERP is a complete cloud-based solution, which can help automate front and back-office processes, including revenue management, financial management, order management, fixed assets, inventory, and many more.
On the contrary, NetSuite is targeted more towards growing mid-size and large companies. It can be used within all departments across the organisation, from top to low management. It offers a customisable view of KPIs suitable to their role.
Comparison between SAP Business ByDesign and NetSuites ERP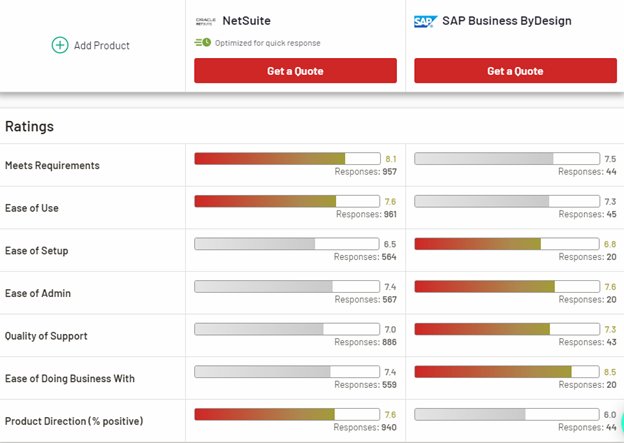 Source: G2
Target Market
Both software solutions have been designed to target at fast growing mid-sized companies as they step ahead from entry level accounting platforms to something more integrated and advanced to facilitate business growth. However, ByDesign mainly targets industries like manufacturing, distribution, software and SaaS, and professional services.
On the other hand, NetSuite target various industries such as financial service, retail and e-commerce, transportation and logistics, manufacturing, distribution, non-profit organisations, and more.
Road Map and Vision
Both systems include intuitive practices to enhance customer experiences. SAP utilises the expertise of partner's in-house developers to develop a scalable product while NetSuite is paying attention to the industries where they are more flexible, such as mid-market retail.
Features and Functionality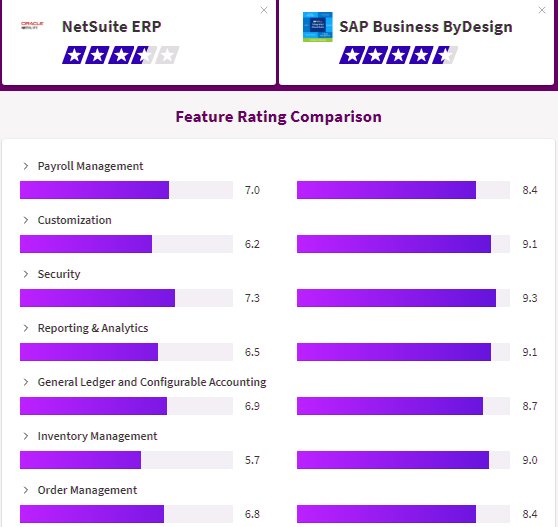 Source: TrustRadius
They share a plethora of the same features such as accounts receivable, accounts payable, CRM, multi-currency, human resources, and inventory management. However, it is believed that NetSuite product enhancements are more advanced than SAP. A ByDesign subscription provides access to all new functionality.
Pricing
SAP usually provides monthly subscriptions on an annual basis that can be renewed annually or can purchase as a one-time fee. Users need to pay additional fees for services like integration, implementation, data migration, customisation, and support. On the other side, NetSuite needs a year-long contract, which can be renewed annually, combined with additional charges for professional services.
It isn't possible to quote the exact price of both of the solutions. The costs may vary depending on several parameters that include a software license, training, subscription fees, customisation, required hardware, maintenance cost, and other associated services.
Why Should You Migrate from SAP ByDesign and NetSuite to Acumatica ERP?

Despite SAP and NetSuite being the market leaders and offering cloud-based ERP applications, the Acumatica ERP system beats both as it will help you meet your business needs more effectively. NetSuite and SAP still lack in their deployment options, database export abilities, and customisation language.
On the contrary, Acumatica ERP was designed for both on-premise and cloud from the beginning, using the robust web technology to give access to data at anytime, anywhere with no additional costs. When it comes to ease of use, better integration, performance, functionality, and worth, Acumatica ERP is highly preferred over SAP and NetSuite.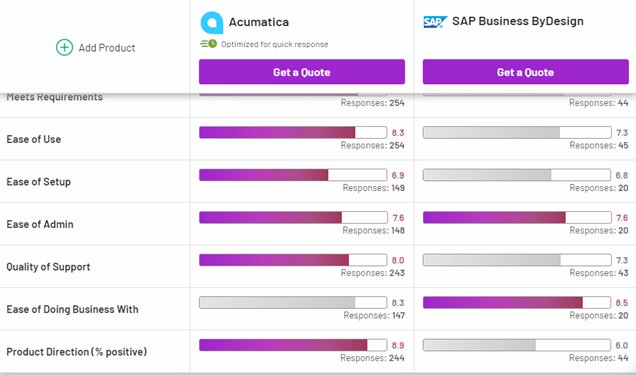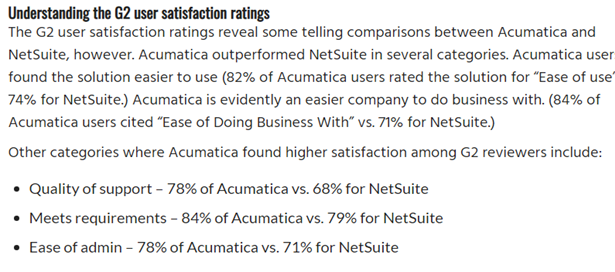 Source: CCS Technology
Select the Right ERP Software
As we have said earlier, the right partner and ERP solution are paramount. We would always advise in-depth research on key aspects such as pricing, support, integration, and packages. We believe Acumatica ERP is the best match for small and medium-sized companies to drive better revenue and meet business goals in a comprehensive manner. At the end of the day, it comes down to your business needs and preferences.