Which Can Effectively Integrate into Your Business - Microsoft Dynamics or SAP B1?
The adoption of Enterprise Resource Planning (ERP) in many industry verticals has incredibly increased in recent years. It is a complete business management solution that integrates each element of your business and automates routine tasks to create a win-win situation for all within the organisation. With an effective flow of information and streamlined business processes, companies can determine areas of improvement and secure better growth.
For seamless integration, you need to implement the right ERP solution. Your choice can either make or break your business. You may come across two leaders in the software market – Microsoft Dynamics and SAP, offering the best implementation and integration support. Keep in mind, if the ERP functionality is limited and your scope of processes is broad, you will certainly fail to meet the industry requirements. That's why it is vital to understand the difference between the two to make the right selection.
In this guide, we will compare Microsoft Dynamics and SAP Business One (B1) on several parameters to help you find what's best for your business. So let's get started!
How Acumatica Compares to Microsoft Dynamics 365 and SAP Business One?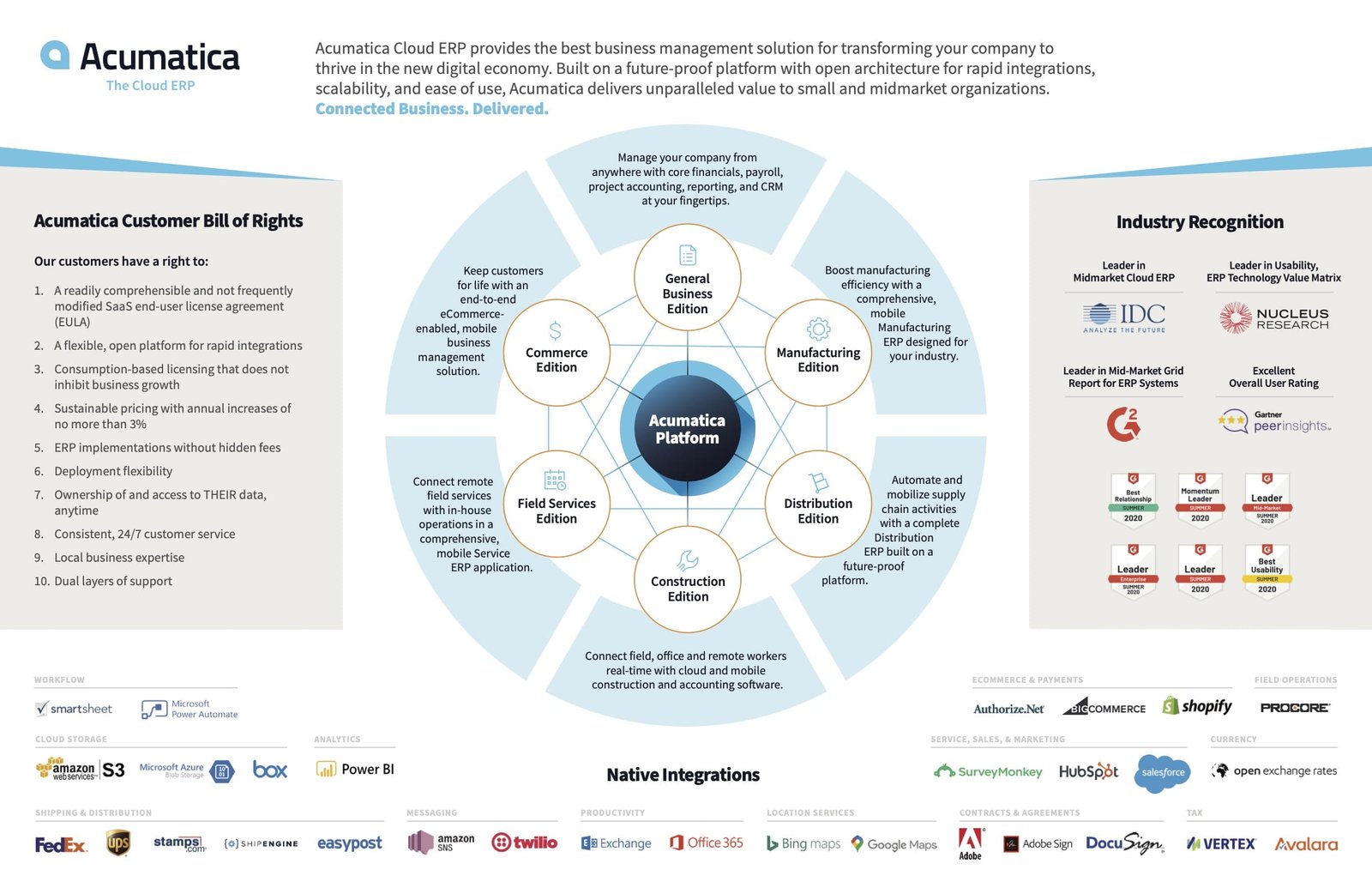 Overview of Two Popular ERPs – Microsoft Dynamics and SAP B1
Microsoft Dynamics
Microsoft Dynamics is designed around Dynamics NAV (formerly known as Navision) codebase and is available as a cloud-native and browser-enabled solution. It was released in May 2018 and being promoted as Microsoft's first cloud ERP product. Its functionality and architecture are ideal for new and developing e-commerce companies. It uses a modular approach, which means you can incorporate all business operations such as pricing, orders and invoices, inventory, accounts, and anything you'd like.
SAP Business One (B1)
SAP Business One is an ERP system created by SAP SE, best suited for small to mid-sized enterprises. As your business rises, you could integrate additional modules and strong functionality. It is simple to implement and maintain, so you can choose to install industry-specific requirements without any technical support. However, it doesn't provide built-in payroll functionality, so you will need a third-party add-on which is a major drawback.
Microsoft Dynamics versus SAP Business One
Both of these ERP products are available in the cloud, making them a reliable option for growing companies looking to grow faster and cost-effectively. But this isn't a fair way to say that how well these solutions integrate with your business operations. The decision will certainly depend on key factors, including the industry sector, complexities involved, company size, and most importantly, your customers' requirements.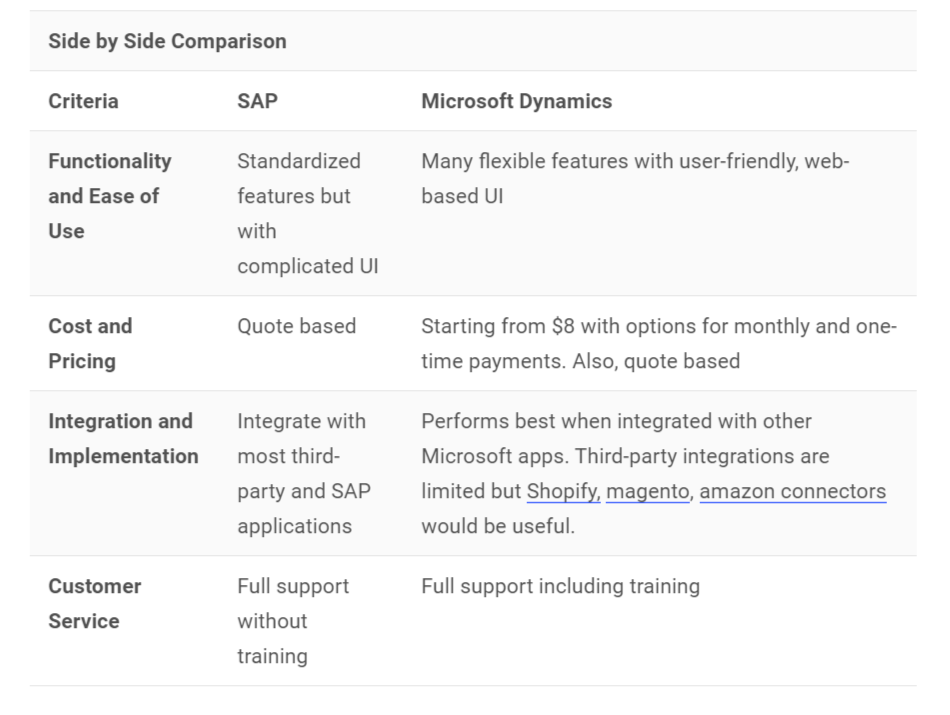 Image Source: Folio3 Dynamics
Here's the significant difference between Microsoft Dynamics and SAP B1:
• Type of Business: Microsoft Dynamics is fit for small and medium-sized enterprises and its Enterprise Edition is great for large-scale organisation. SAP B1, on the other hand, is only designed for SMEs.
• Functionality: Microsoft Dynamics integrate functionality like financial planning, CRM, reporting, HR management, and logistics. SAP B1 comes incorporated with accounting, inventory and warehouse management, reporting, purchasing, and analytics.
• Hosting Options: SAP B1 offers two hosting options – on-premises and cloud while Microsoft Dynamics provides cloud-based hosting.
• Pricing: SAP B1 requires user licenses for modules which increase upfront costs. On the other side, Microsoft Dynamics charges per module.
• Ease of Use: SAP B1 in-depth capabilities are more than what small businesses usually require. Whereas Microsoft Dynamics uses built-in tools and connects with other MS business apps.
• Integration: SAP B1 can be integrated with only solutions that are SAP certified while AppSource offers easy access to Microsoft and approved third-party solutions.
If you've been using Microsoft software solutions, you will possibly find Microsoft Dynamics easy to implement and use. However, you may face compatibility issues if you use various business systems. So is there any reliable ERP solution available in the market than these two? Read to find out!
Why Acumatica is known as the Top Leader among ERP Systems?

Acumatica ERP comes with a full-fledged suite of modern, integrated business management applications, including financials, manufacturing, distribution, retail and e-commerce, field service, customer relationship management, and more. It can run on-premises or in the cloud, giving customisation options to meet your precise business needs using advanced tools and technologies.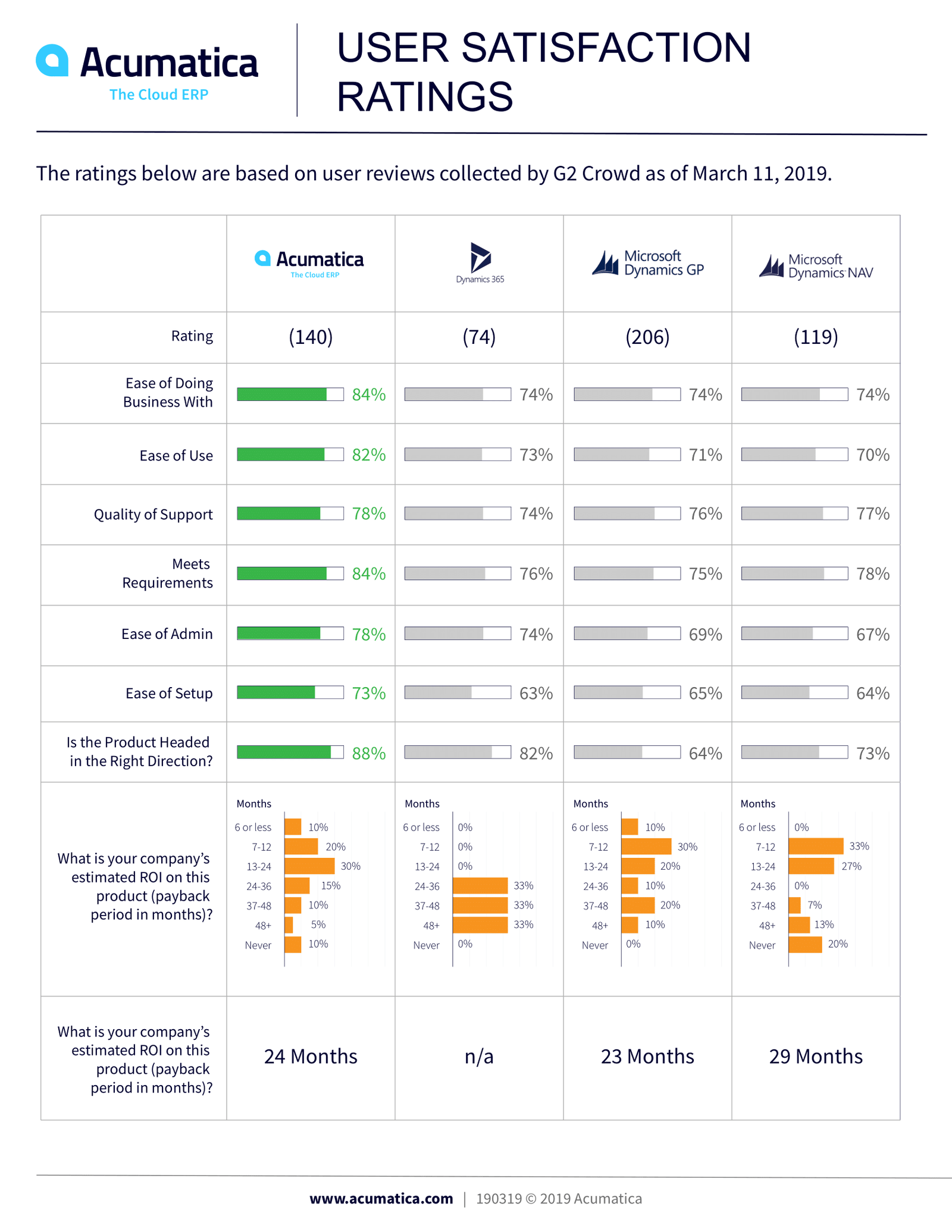 Image Source: Acumatica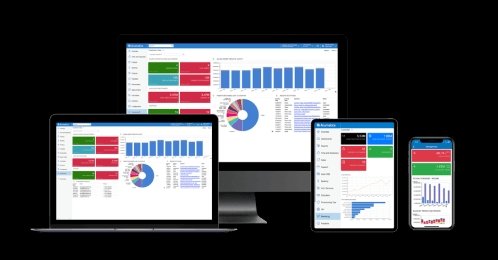 According to G2, when accessing Dynamics 365 Business Central and Acumatica, users found Acumatica easier to use, implement, and administer. Nucleus Research shows that Acumatica receives the highest ranking in the value matrix for its superior usability.
Three elements that set Acumatica ERP apart from Microsoft Dynamics and SAP B1 is a true cloud, customisations using industry-standard tools, and pricing. Acumatica works natively in the cloud with a less expensive database and charges by computing power used.
Ready to Take the Next Step to Your Business Success?
To conclude, Acumatica ERP stands up against SAP B1 and Microsoft Dynamics because it offers a completely integrated ERP solution, with unlimited users where you will just need to pay for system resources. Hence, it is proved that Acumatica offers the best ERP product in terms of performance, functionality, value, ease of use, and security.
Feel free to reach out to us for further assistance. We'd be more than happy to help you!