ERP Comparison: Which Will Satisfy Your Business Needs Best - Microsoft Dynamics 365 vs NetSuite?
Businesses are required to adopt cutting-edge and scalable tools to survive in a competitive business environment. As the demand for cloud-based Enterprise Resource Planning (ERP) systems are continuously rising, you might come across two popular choices in the category of business solutions: Microsoft Dynamics 365 and NetSuite.
Both of these business management solutions are giving head to head competition to each other. These two vendors are offering similar functionalities, with both helping small and mid-sized firms by providing integrated ERP solution. To help you understand which ERP system will best fit your business needs, we're going to outline the comparison between Microsoft Dynamics and NetSuite.
How Acumatica Compares to Microsoft Dynamics 365 and NetSuite?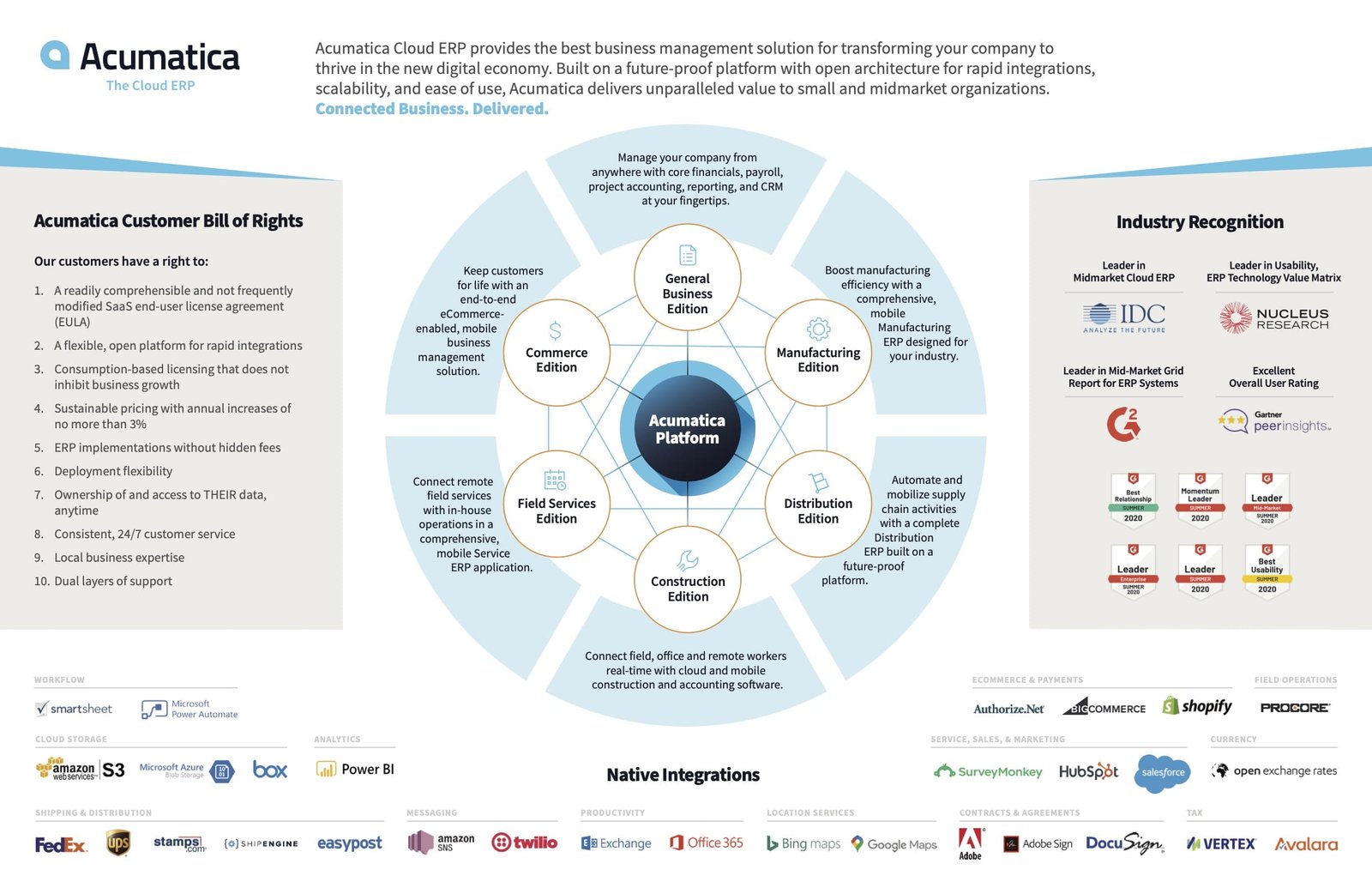 About NetSuite ERP
NetSuite is cloud-based ERP software, from a legacy of Oracle, which includes a wide range of business intelligence applications to help SMEs manage their business processes. It has both CRM and ERP capabilities, PSA, and e-commerce benefits into a single system. It combines key components like sales, customer service, marketing, field service, business control, human resource, and many more.
About Microsoft Dynamics 365
On the contrary, Microsoft Dynamics 365 is a robust ERP system that combines a variety of aspects of business operations in a single platform. It includes various features, combined with CRM tools and ERP capabilities.
The Battle of ERP Solutions – Microsoft Dynamics Vs NetSuite
NetSuite was established as Software as a Service (SaaS) and cloud system. Therefore, the best-in-class functionality is already built in the cloud. On the other side, Microsoft Dynamics has recently announced the first-ever cloud ERP solution and working to fit it into a cloud delivery model.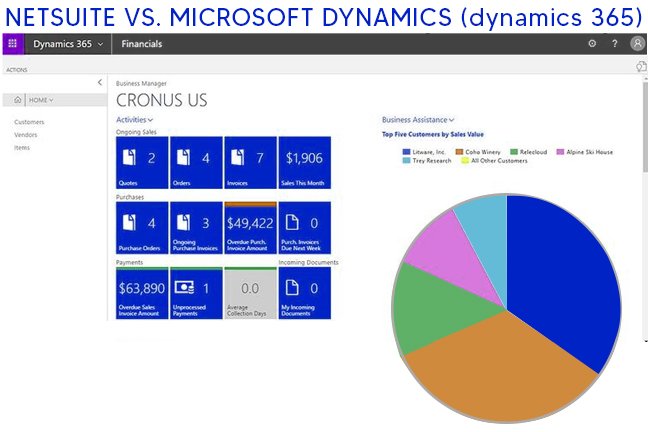 Source: Cumula 3 Group
Let's go deeper into core functionalities and inherited actions of these two systems:
1. Flexibility
Both systems are flexible and can be customised to match users' unique requirements. These can be integrated seamlessly into any third-party applications to help companies gain a competitive edge over others.
However, NetSuite ERP beats Microsoft Dynamics in terms of flexibility because Microsoft Dynamics 365 has certain restrictions on direct accessing of data which may lead to complexities in third-party integrations.
2. Scalability
NetSuite involved flexible features with standardisation which avoids extensive personalisation. Whereas Microsoft Dynamics 365 has a limited range of functionalities across the entire business processes, either in a large-scale or complex manner. Also, the scalability relies on carrying different aspects of the business.
3. SaaS and Cloud Maturity
Microsoft previously offered Great Plains, Axapta, and Navision, but they are now striving to converge into a single Dynamics 365 cloud solution. There is a lot of legacy functionality to work through and rebuilt for cloud model delivery.
On the other side, NetSuite has been SaaS and cloud solution from the start. So clearly, it has the best of its functionality and has an upper hand in the cloud offering.
4. Pricing
Microsoft Dynamics is considered more expensive than NetSuite as it will cost per user, multiplied by the number of users, third-party tools, and annual maintenance for an on-premise solution, or monthly charges for a cloud-hosted platform. On the contrary, the NetSuite license works as a subscription model and may be renewed on an annual basis or over long intervals.
Even though MS Dynamics 365 is giving good competition to NetSuite, it is still in the phase of updates and enhancements which may offer an adverse impact on business processes. Keep in mind, implementing an ERP solution is a huge commitment that will affect your business growth for several years. Oracle NetSuite also continues to be restricted in terms of deployment options, database export capabilities, and language customisation.
The G2 Crowd survey unveils how users respond in the comparison between Acumatica and NetSuite in nine categories, such as ease of use, meets requirements, ease of doing business, and return on investment.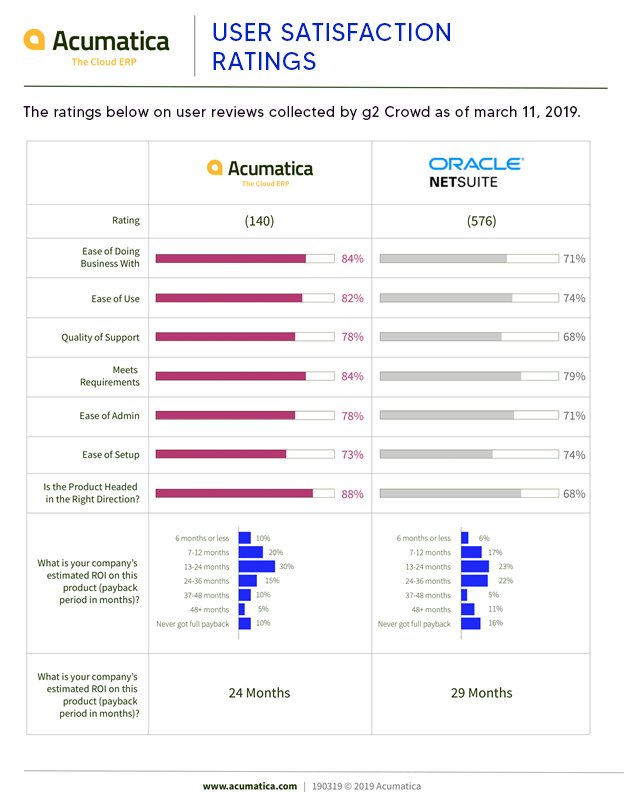 Source: Acumatica
Acumatica ERP – Enjoying the Lead over Microsoft Dynamics 365 and NetSuite
The COVID-19 pandemic has made every business owner realise that it is extremely important to digitalise their operations to survive in the dynamic marketplace. The good news is Acumatica ERP is offering a wide range of suites and functionalities to help companies increase resilience and agility.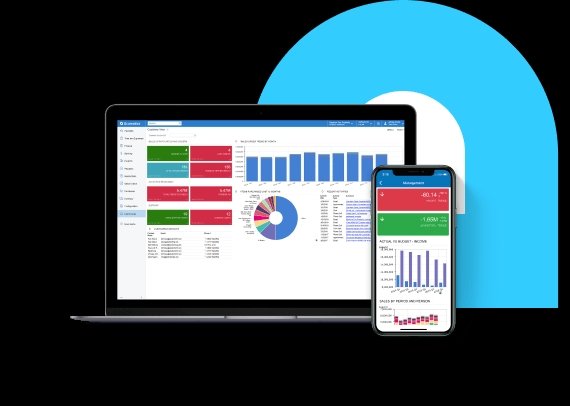 The recently released IDC ERP Vendors assessment report shows Acumatica as a leader by IDC analysts with regard to industry focus, innovation, and sophistication.
The 2020 ERP Technology Value Matrix report by Nucleus Research shows that for the fifth year in a row, Acumatica was marked as a leader and cloud ERP solution with superior usability. Acumatica was designed to be accessible on the cloud right from the beginning, combined with modern web technology. The system offers access to business data from any location at any time, flexible licensing options, reduce the company's Total Cost of Ownership (TCO), and no cost for adding users.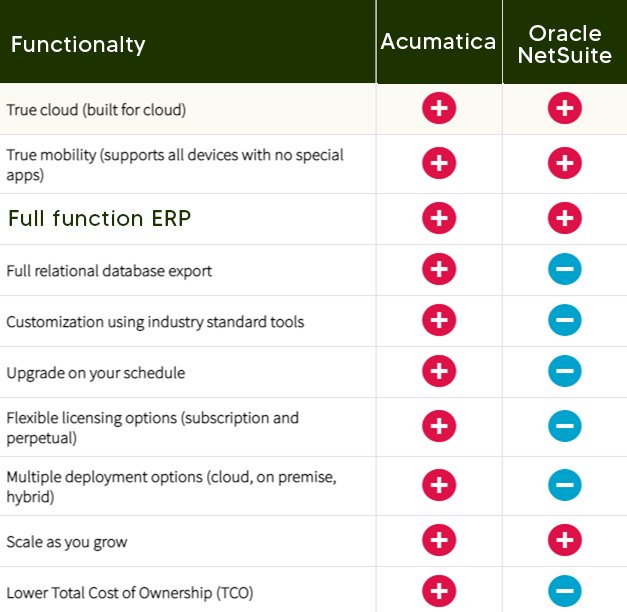 Source: Acumatica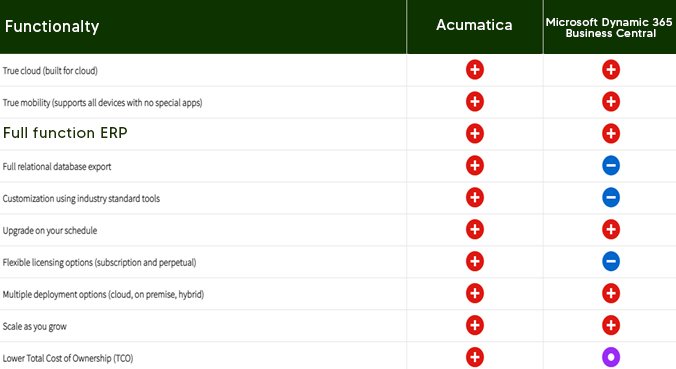 Source: Acumatica
It's Time to Choose the Best ERP Fit for Your Business
Microsoft Dynamics 365 and NetSuite has been offering effective functionality to small and mid-sized firms but failed to provide an exceptional user experience in different scenarios.
Acumatica ERP is designed with the most advanced cloud and mobile technology and an all-inclusive user licensing model that helps businesses succeed even in times of uncertainty. Companies looking for a highly flexible, cohesive, and modern cloud-based ERP system should implement Acumatica ERP software.